Posted on
April 19th, 2010
by ASEE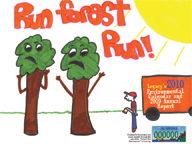 Application deadline: April 30, 2010. Prizes: One $50 prize, and 12 $25 prizes, with the 13 selected drawings featured in the Legacy calendar.
Legacy, Partners in Environmental Education, is proud to sponsor its annual Environmental Calendar Contest. Students from grades K-6 in Alabama are encouraged to submit a drawing concerning an environmental issue such as recycling, ozone, water conservation, wildlife, forestry, and energy conservation. Teachers are encouraged to use this contest as a way to teach about Alabama's environment. To view several sample hands-on environmental education activities, click here.
School Competition
Each school that participates is to conduct a school competition. Once the winners are chosen, the top THREE winners from each grade are then sent to the Legacy office. Please fill out a School Entry Form for Legacy to know how many entries each school had. The students winning the school competitions will receive a certificate from Legacy and will participate in the state competition. The school winner entries must be postmarked by April 30, 2010 to be eligible for the state competition.
State Competition
At the state Competition, a group of Legacy volunteers will select 13 drawings to be featured in the 2011 environmental calendar. One drawing will be highlighted on the cover of the calendar. The other 12 drawings selected will be showcased one per calendar month. The student whose drawing is selected to be featured on the cover will receive $50. The students whose drawings are featured each month will receive $25. Entries that do not adhere to all of the guidelines cannot be considered.
Click here for the 2011 application form.
For more information, please visit the Website.

Filed under: Grades K-5, K-12 Outreach Programs
Tags: Contest, Environmental science, Grades K-6