Posted on
March 18th, 2010
by ASEE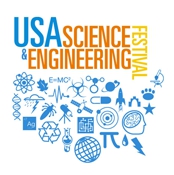 Submission Deadline: March 31, 2010. Prize for the winning Jingle: $500
Create a Jingle for the USA Science & Engineering Festival
This competition is to create a Jingle for the USA Science & Engineering Festival. It will be heard and sung by hundreds of thousands of science enthusiasts across the country.
It can be sung solo or with friends, with a choir or band, in unison or harmony, with accompaniment or a cappella, as long as the words and music are the submitter(s)' original idea and the entire Jingle is original.
The Jingle should…
capture the spirit of curiosity, innovation and discovery that the Festival is all about

be so memorable that people can't stop singing it!
Imagine hundreds of thousands of people humming the Jingle on their way to the USA Science & Engineering Festival Expo Day in the National Mall!
The following criteria will be considered for the winning Jingle:
Creativity: Does the Jingle capture the spirit of the Festival? Is it unique? Interesting? Fun?
Simplicity: Can people easily remember and sing it?
Functionality: Is it appealing to people of all ages and backgrounds?
Contact information and Jingle audio file must be submitted no later than 11:59pm on March 31, 2010.
Click here to review the Jingle Contest Terms & Conditions.
How to submit a Jingle:
1. Go to http://yourlisten.com and create a user account (it's absolutely free and takes one minute)
2. Upload your audio file to yourlisten.com
3. Once you have uploaded your file, there will be an option to copy the link
4. Insert the link to your audio file in the submission form
What's a Jingle? A San Diego Science Festival song written by David Haines (www.singtastic.com) is shown below – the chorus is a great example of a jingle.
Filed under: K-12 Outreach Programs
Tags: Competition, Competitions for Students, Contest, Contests, Videos