Posted on
September 11th, 2011
by Jaimie Schock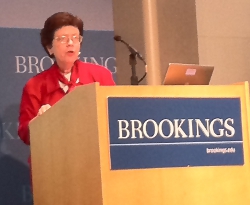 In a keynote speech held Monday at The Brookings Institution in D.C., acting Commerce Secretary Rebecca M. Blank unveiled new research on employment and education of racial and ethnic minorities in science, technology, engineering, and math (STEM) fields released by her department that morning. The research was presented along with two other studies, which document and assess the relative stability and growth of STEM jobs and the gender gap facing women in the fields.
According to the reports, there were 7.6 million STEM workers (excluding educators) in the private sector in 2010, but only six percent of them were black, non-Hispanic, while that number is 11 percent for the general workforce. For Hispanic workers, the gap is even more severe, with six percent in STEM and 14 percent in the general workforce. And numbers for women are also disheartening: only 24 percent of STEM jobs were held by women in 2009, whereas women held 48 percent of all jobs. "There is a substantial gender gap in the STEM professions," Blank says. "It's very large."
But, the news is not all bad. Employment in STEM fields rose eight percent between 1994 and 2010, and it did not fall in the recession. Moreover, women in STEM careers make 33 percent more in income than women in similar, non-STEM positions. Black and Hispanic workers also make more in STEM. Blank emphasized that STEM education is a large priority for the Obama Administration, and thus programs supporting it may be spared in continuing budget cuts.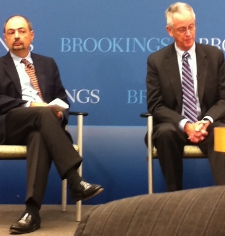 Blank's speech was followed by a short Q&A session, and then a panel of representatives from academia and industry. National Academy of Engineering (NAE) President and MIT President Emeritas Charles M. Vest spoke on a number of issues facing STEM education, including low interest in engineering of women entering their first year of college (only 3.1 percent said they wanted to major in the field, as opposed to 17 percent of men).
During the panel's Q&A, Vest outlined what he considers the best approach to incorporating engineering into K-12 classrooms, saying "Kids need to hear the word 'engineering.'" He pressed for more integration of engineering concepts into pre-existing curricula, as opposed to "dumping" engineering on teachers and schools as a separate subject, and said that while it is good students are receiving more technology such as iPads in the classroom, he wanted to see more students being made aware of where that technology comes from.
Panelist James Simons , President of Euclidean Capital, LLC, pushed for providing more incentives for math teachers in order to retain and attract them and the establishment of a Corps of Master Teachers, while Charles Giancarlo, Managing Director and Head of Value Creation at Silver Lake Partners, emphasized that current graduation rates would not fill the demand needed for industry. Giancarlo said that less than ten percent of current K-12 STEM teachers had formal STEM training, a possible factor in the difficulty of motivating students. He also pointed out that the visas offered to foreign-born students allowed them to be trained in the U.S., but not stay and work, further contributing to a lapse in available workers.
Looking forward, Vest says that President Obama should tell the American people "I want to make teaching the most respected profession in this country." And, he says, such an initiative would represent the best value in tough economic times: "It costs nothing."
Welcoming remarks and moderating were provided by Darrell West, Vice President and Director of Governance Studies at Brookings. Audio of the keynote and panel presentations are available on the Brookings website's event page.
IMAGES: Top – Rebecca Blank delivers her keynote address. Bottom – Charles Giancarlo (left) and Charles Vest (right) listen to an audience member's question. Photos by ASEE.
Filed under: K-12 Education News
Tags: Department of Commerce, National Academy of Engineering, STEM education, STEM majors, STEM teacher training, STEM teachers