Posted on
July 11th, 2013
by Mary Lord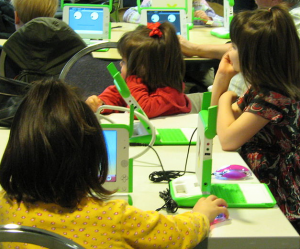 Computer programming in kindergarten? Writing code is just one of several new skills England's children would have to learn, according to the final version of a proposed national curriculum released on July 8.
According to Wired UK, the revised curriculum scraps basic word processing for deeper computing knowledge and skills, such as coding and understanding algorithms. The proposal envisions students mastering two or more programming languages, understanding binary number systems, and using multiple skills to undertake creative projects. They also will be taught from a very early age about the importance of keeping personal information private.
The proposed syllabus for design and technology calls for children from age 7 being taught computer-aided design, and from age 11 they will learn 3-D and mathematical modelling and including programmable components in design.
Climate change has been added to the secondary-school geography curriculum.
Meanwhile, U.S. schools and districts are adding computer science and programming to the curriculum. The Boston Globe reports that Beaver Country Day School, a private school near Boston, Mass., launched an ambitious program to teach computer programming to every students, starting with upperclassmen this fall and eventually expanding down to 6th grade.
For many American students, AP Computer Science provides the only exposure to programming  and software engineering. Few schools offer the course, however, and boys comprise 80 percent of all test takers.

Filed under: K-12 Education News, Special Features
Tags: binary number systems, coding, Computer Programming, Computer Science, computer-aided design, England, learning, national curriculum, STEM education, teaching