Posted on
June 21st, 2010
by ASEE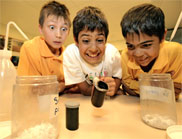 The chemistry activity page of CSIRO — The Commonwealth Scientific and Industrial Research Organisation,  Australia's national science agency — offers simple, fun projects such as bubble prints, cabbage chemistry, dancing ice, and a chromatography experiment that demonstrates how forensic scientists catch criminals with ink.
The physics activity page lists activites such as backyard bergs, bottled balloons, egg in a bottle, and other experiments on gravity, thermometers, and light-bending jelly lenses.
Other sections of this science Website offers information, videos, links, the Double Helix Science Club, and local resources for Australia teachers.
Filed under: Class Activities, Grades 6-8, Grades 9-12, Grades K-5, K-12 Outreach Programs, Web Resources
Tags: Chemistry, Experiments, Physics