Posted on
May 10th, 2010
by ASEE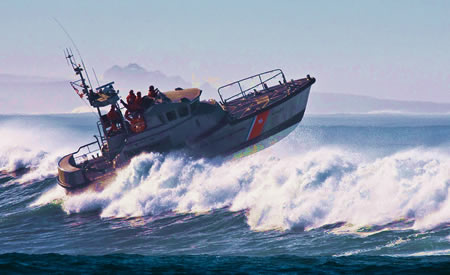 The ocean's awesome power is never more apparent when the surf's up or a coastal storm is brewing. But did you know that engineers are busily seeking ways to harness that might as a means for producing alternative sources of energy? Here is an overview of three different projects, compiled from recent news items in ASEE's
Prism
magazine.
SWELL MACHINE (January 2010)
Knowledge of fluid dynamics is critical for keeping airplanes aloft. Aerospace engineers at the U.S. Air Force Academy in Colorado are applying the same principles and technologies that let pilots control planes to capturing the enormous power of ocean waves. The oceans are literally a sea of energy, but harsh marine environments wreak havoc on the needed equipment. Until now, wave energy devices have had to be anchored to the seabed, and few have proved very efficient. Air Force researchers developed a technology that relies, as with airplanes, on lift, not drag. A hydrofoil is built into a cycloidal propeller, or turbine, that's vertically positioned so it moves with the up-and-down motion of a wave. The blades flatten the wave, working as a storm-wave breaker, and increase the amount of energy that can be captured. Because the device is float-mounted, it does not need to be tethered to the ocean floor.
GO WITH THE FLOW (November  2008)
Since about 70 percent of Americans live within 100 miles of an ocean, some experts think harnessing the power of the seas could go a long way toward providing many with clean energy. Fredrick Driscoll, technology director of Florida Atlantic University's Center for Ocean Energy Technology (COET), says ocean energy is "undeveloped compared to other conventional and renewable technologies." That's something COET — which opened three years ago and has so far received $13.75 million in state funding — hopes to change. The center is investigating both mechanical energy from waves and currents, and thermal energy from solar heat absorbed by the water. And it sees the Atlantic's Gulf Stream, which links Florida to Britain, as a huge potential power source. Accordingly, the school has research agreements with two Scottish schools, Heriot-Watt University and the University of Edinburgh.
Meanwhile, U.S. Air Force Academy researchers are working on a wave-power project using paddlewheels attached to a line of submerged barges. The currents spin the wheels to generate electricity that is sent to shore via underwater cables.
HIGH SEAS, FAST VOYAGE (October 2008)
Waves usually slow boats down. Not so the Suntory Mermaid II, a 31-foot, 3-ton catamaran built by engineers at Japan's Tokai University. The bigger the waves, the faster this boat goes. That's because it's wave-powered. Designed by engineering professor Yutaka Terao, it absorbs energy from waves, then uses this energy to power two fins whose kicking motions propel the craft through the water. Japan's most famous sailor, Kenichi Horie, a spry 69-year-old, recently solo-sailed the boat 4,350 miles from Hawaii to Japan. Because the sea was calmer than usual, the Mermaid only averaged 1.5 knots — not the 3 or 4 knots expected, so the trip took 111 days. But Terao's team is working to ramp up that speed. What's more important, he says, is that Horie's trip proved the commercial viability of a technology dependent on a never-ending resource—waves.
Horie, who often champions eco-friendly designs, has set records sailing solar- and pedal-powered boats, too; he's even sailed a boat made from recycled beer kegs. To which we say: "Cheers, Kenichi."
Filed under: Special Features
Tags: Marine engineering, Ocean