Posted on
May 19th, 2014
by Mary Lord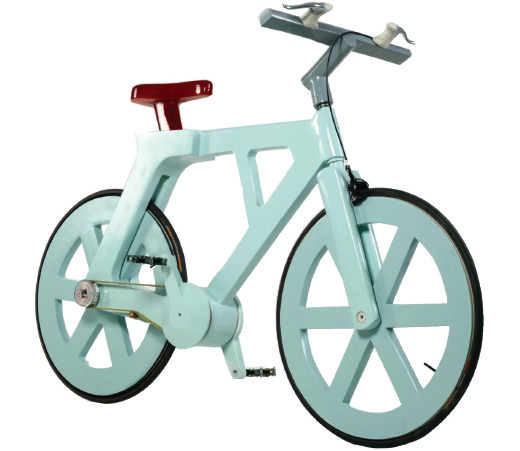 Izhar Gafni's eureka moment came a few years ago when he heard about a cardboard canoe and wondered: "Why not a cardboard bicycle?"
The challenge proved harder than the Israeli systems engineer and biking enthusiast originally thought. It took several years of trial-and-error work before he finally succeeded in building a reliable model. The adult version of Gafni's bike weighs a mere 20 pounds, but it's stronger than carbon fiber, costs only about $10 to make, and is water- and fireproof. (A kids' version weighs 8 pounds.)
Its strength—it can hold a 485-pound rider—comes from folding recycled cardboard origami-style, reinforced with glues, resins, and recycled car tires. There are no metal parts. With a possible retail price of around $20, the cardboard bike has the potential to revolutionize travel in congested developing-world cities. Gafni, 50, created a company called Cardboard Technologies to market the bike and develop other wheeled contraptions.
Update: Cardboard Technologies hit a snag in the summer of 2013, when its first bikes finally hit the market – for $290. The company dropped the price after only 24 people purchased one, according to a July 2, 2013 report in Fortune magazine.
This article by Thomas K. Grose originally appeared in the January 2013 issue of the American Society for Engineering Education's Prism magazine.
Photo courtesy of Cardboard Technologies
Filed under: Special Features
Tags: cardboard bicycle, entrepreneur, Green Technology, Ideas & Inventions, Materials Engineering, Sustainability, Systems Engineering, Transportation