Posted on
May 20th, 2015
by Mary Lord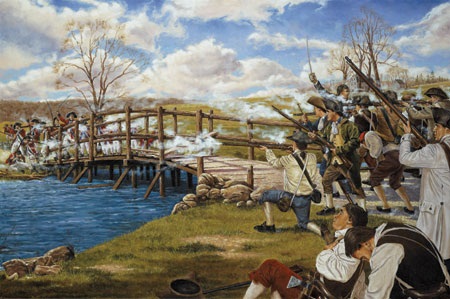 The "rude bridge" where the opening shots of the American Revolution were fired was immortalized in Emerson's Concord Hymn.
Designing, building, and testing bridges can help students develop teamwork and problem-solving skills along with inspiring their interest in engineering. And there are several major competitions to take that interest to the next level, notably the West Point Bridge Design contest (now the Engineering Encounters virtual bridge design contest) for middle and high school students.
Hands-on projects also can fuel an interest in reading about bridges, whether to learn more about their architecture,  history, or even place in literature. Here are some notable titles that might strike a chord with your budding civil and structural engineers:
An Occurence at Owl Creek Bridge – Ambrose Bierce's short story about a man about to be hanged from a railroad bridge and his miraculous escape.
For Whom the Bell Tolls – Ernest Hemmingway's classic about a Spanish Civil War soldier assigned to blow up a bridge fighting on the Republican side in the Spanish
Bridge Over the River Kwai – French author Pierre Boulle's 1952 historical novel  (translated in 1954 by Xan Fielding) portrays the hardships faced by World War II British prisoners of war who are forced by the Japanese army to build a bridge for the "Death Railway" in Burma. David Lean's 1957 film adaptation won the Academy Award for best picture.
Bridge to Tarabithia – Katherine Paterson's Newberry Medal-winning children's book about two lonely youngsters who create a magical kingdom was inspired by a friend of the author's son was struck by lightning.
The Bridge on the Drina Nobel prizewinner Ivo Andric historical novel uses the Mehmed Pasa Sokolovic bridge in Bosnia to connect the stories of the different ethnic groups who live nearby.
Bridge of Sighs – English poet Thomas Hood evokes Venice's famous span in this poem about  a woman who lost her virtue and drowned herself.
Concord Hymn – Philospher Ralph Waldo Emerson's famous poem about the "rude bridge that arched the flood" where Massachusetts farmers took aim at the British and "fired the shot heard 'round the world." (Image, above)
To Brooklyn Bridge Part of Hart Crane's 1930 epic poem, The Bridge, was inspired by New York City's "poetry landmark" that he could see from his home at 110 Columbia Heights in Brooklyn. He later learned that the son of the bridge's designer and one of its key civil engineers,  Washington Roebling, had once lived at the same address. This Library of Congress lesson plan uses The Bridge among primary sources to teach about epic poetry and 1900s America.
Duke University engineering professor Henry Petroski, a columnist for the American Society for Engineering Education's Prism magazine,  offers some other civil engineering-themed recent good reads, from thrillers to the biography of Augustin Fresnel, the French engineer who invented the modern lighthouse lens. Petroski is the author of Engineers of Dreams: Great Bridge Builders and the Spanning of America (Knopf, 1996).
Filed under: For Teachers, Special Features
Tags: bridges, Civil Engineering, English Language Arts, literature, poetry, Structural Engineering