Posted on
April 5th, 2010
by Jaimie Schock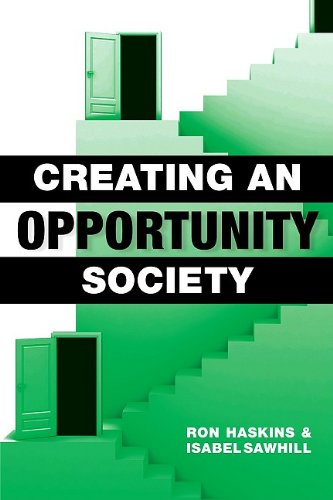 The best way to combat income inequity in America is to expand economic opportunity via higher education, according to two Brookings Institution economists in their new book, Creating an Opportunity Society. In a recent HuffingtonPost.com blog, authors Ron Haskins and Isabel V. Sawhill point out that there is near "universal agreement" that education is key to economic success. Nevertheless, they add, children from poor families are less likely to go to college than their better-off peers.
So, how do we ensure more children come out of their K-12 years prepared for college? Start by putting more focus on preschool education, say Haskins and Sawhill, because children from disadvantaged families start falling behind intellectually by age 3. But, they add, research indicates that state-funded preschool programs do a better job than Head Start in preparing tots for elementary school. Ergo, they argue, states should have a bigger role in determining how to spend Head Start funds.
The writers give two thumbs up for the White House's proposed changes to the Elementary and Secondary Education Act, saying they place more emphasis on higher standards and accountability. Finally, they think the government could do a better job of explaining very early on to poorer families what types of college aid will eventually be available to their kids, and that middle-school students should receive more and better guidance in how to prepare for college enrollment. Haskins and Sawhill say that nearly all of their recommendations are backed by "strong research" and that they could help ensure that more disadvantaged students become college-bound.
Filed under: K-12 Education News
Tags: College, Education Policy, Grades Pre K-2, Public Policy