Posted on
June 19th, 2011
by Mary Lord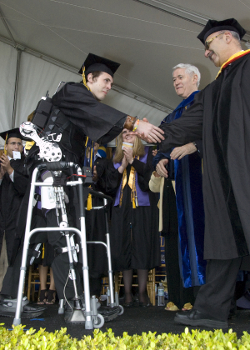 When University of California, Berkeley senior Austin Whitney walked across the stage at graduation on May 14, 2011, it was more than just a personal triumph. His rise from a wheelchair represented a triumph for paralyzed people everywhere–and for engineers whose "adaptive technology" designs have helped disabled individuals overcome mobility limitations.
"Ask anybody in a wheelchair; ask what it would mean to once again stand and shake someone's hand while facing them at eye level," Whitney, 22, said in a pre-graduation university news report about his feat.  "It will be surreal, like a dream."
The souped-up leg braces that enabled the history and political science double major to realize his dream were developed by Homayoon Kazerooni, professor of mechanical engineering, and his team of UC Berkeley graduate students. The project so humanized their work on robotic exoskeletons to enhance human endurance in Kazerooni's Robotics and Human Engineering Laboratory they named it "Austin" in honor of its first human test pilot.
Austin Whitney certainly showed the fortitude of a test pilot. The  San Juan Capistrano, Calif., native was steering toward a rosy college future upon graduation from high school in 2007. He'd emerged with a 4.0 GPA, played sports, and was involved in student goverment and theater. That July, after drinking with friends, Whitney got behind the wheel of a car and crashed into a tree. His spinal cord severed just above the hip, he spend the next 41 days in a hospital, then started college at UC Santa Barbara just 10 days after being released.
Whitney's parents and sister were on stage as he took his first steps since the accident. "This is the greatest day of my life," said his mother. Whitney hoped his success would provide hope to other paraplegics that affordable machines will help them regain some of their mobility. "This technology can be accessible to a large number of people, and that is our mission," said Prof. Kazerooni, also on the graduation stage. "We're telling the community that this is possible. This is just the beginning of our work."
Watch Austin Whitney walk to receive his diploma:
[youtube]http://www.youtube.com/watch?v=sZ_FCtRRgBk[/youtube]
Photo © Copyright Steve McConnell/UC Berkeley. Used with permission.
Filed under: Special Features
Tags: adaptive technologies, Berkeley, Biomedical, Biomedical Engineering, Engineering, Materials Engineering, Robotics