Posted on
December 11th, 2011
by Jaimie Schock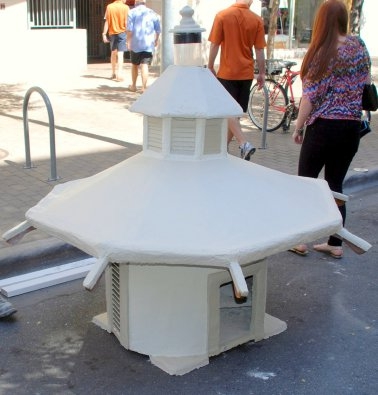 Austin Community College ASEE Student Chapter Doghouse
The Austin Barkitecture competition calls on local engineers, architects, and builders to design slick abodes for canine consumers. Hosted by the non-profit Animal Lovers of Austin, the fundraising contest has teams creating trendy doghouses, which are then bid on in an auction. Proceeds go to local charitable groups and community members for veterinary care, spay/neuter surgeries, and community outreach.
A team from the Austin Community College American Society for Engineering Education (ASEE) Student Chapter took home "Most Unusual" for their doghouse (seen above), and other entries ranged in style from mimicking small cottages to doggy treats.
This year, the event raised $20,000, according to an Animal Lovers of Austin press release. Funds raised through sponsorships, silent auctions, and sales of the one of a kind doghouses were used for grants to Austin Boxer Rescue, Blue Dog Rescue, Cocker Spaniel Rescue of Austin & San Antonio, Emancipet, Austin Greyhound Adoption, Humane Society of Williamson County, and Love-a-Bull, Inc.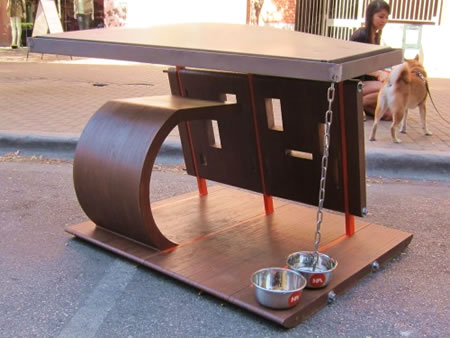 Rib-themed Doghouse Entry, Image from Houzz.com
The money is going to medical bills, training, interim boarding, and more. New to 2011, it's funding the Meals on Wheels and More (MOWAM) program, which provides free spay/neuter and preventive vet care to the pets of its clients. It is also going to the establishment of a special Critical Care Fund for one group for emergency surgeries and other higher cost procedures/medicines so that animals in their care are not euthanized simply because of the cost of a medical treatment. Critical renovations to one organization's medical clinic are additionally being funded, including  isolation units for pets suffering from contagious diseases.
Started in 2005 and taking place yearly in October, Barkitecture events also feature a canine "Fashound Show" and information about adoption opportunities from local rescue groups. More on the competition, including photos of and information on the 2011 and 2010 winners, can be found on the event's website.
Filed under: Special Features
Tags: animals, Architectural, Architecture, Building Design, Competition, Contest, Contests