Posted on
November 8th, 2010
by Jaimie Schock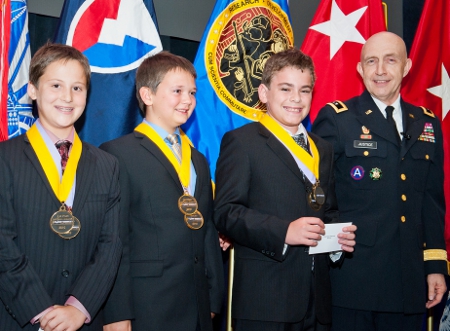 Some of last year's eCYBERMISSION winners
The U.S. Army's Research, Development, and Engineering Command, in an effort to promote STEM education, has announced that registration is now open for its eCYBERMISSION competition. Students in grades six through nine must utilize innovation, creativity, and interest in STEM education in the free, web-based, STEM competition. Throughout the competition year, students and educators will be connected to volunteers, or CyberGuides, who interact with contest participants through various outlets, including online discussion forums, team chat rooms, and interactive webinars. Registration for teams closes December 17, 2010.
Guided by an adult Team Advisor, students form teams of three to four and identify a problem in their community  they are interested in studying.  eCYBERMISSION offers several resources for students and Team Advisors throughout the competition year, including Mission Folder tips, supplemental worksheets, interactive webinars, CyberGuide chats, and an active social media network.
Students on winning teams can get up to $8,000 in U.S. EE Savings Bonds. The 16 regional first place winning teams also receive an expenses-paid trip to the National Judging and Educational Event, where they will present their projects and compete for the national title in each grade. More than 13,000 students participated in the eCYBERMISSION competition last year, and the Army awarded over $1 million in U.S. EE Savings Bonds.
Find information on the competition on the eCybermission Website.
Filed under: Grades 6-8, Grades 9-12, K-12 Education News, K-12 Outreach Programs
Tags: Competitions for Students, Contest, Grades 6-9, U.S. Army