Posted on
August 16th, 2010
by Jaimie Schock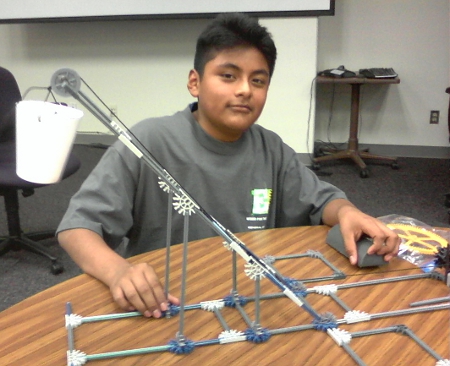 eCrew participant Leonel B. shows off his team's crane during the Moon Mission: "Heavy Lifting" challenge
Defense contractor General Dynamics is facing an engineering shortage. Its older engineers are retiring at a faster pace than engineering schools are churning out graduates. So, in Scottsdale, Arizona, the company has started what could become a farm-club system for developing young engineering talent, the Arizona Republic reports. Called eCrew, it's an 11-week program run in conjunction with the city's Boys & Girls Clubs.
Eighteen 7th- and 8th-grade students who have shown some math and science skills were selected for eCrew, which focuses on giving the students hands-on projects, like launching rockets and building working model cranes, the paper says. Students got to work with company engineers, and were also given advice on which classes to take before entering college. The students will be tracked to see how well they do in math and science as they progress through middle and high school. General Dynamics may eventually continue to mentor the students via email and work with Arizona State University and local community colleges on developing programs that reinforce the eCrew efforts.
Already, General Dynamics is talking about creating a second eCrew cohort next spring. Scottsdale has nine branches of the club, which cater to 2,400 students ages 6 to 18, about half of whom are from groups underrepresented in engineering. Tim Walker, a company training executive, tells the Republic that the goal is for the students to graduate from engineering school. "Then, we recruit and hire them. We make no bones about it." It's called engineering a talent pipeline.
Filed under: K-12 Education News
Tags: Corporations, Engineering outreach, Outreach, Programs for Students