Posted on
August 18th, 2016
by Mary Lord
The National Park Service just turned 100 and what better way to celebrate than with the grand opening of a stunning new addition on the National Mall?
A stone's throw from the Washington Monument, the $540 million National Museum of African American History and Culture—opening in September—promises to rival the iconic obelisk in scale and impact. Adorned with a corona, or scrim, of 3,600 bronze-colored cast-aluminum panels that glow at night from the light within, the distinctive exterior evokes "ornate 19th-century ironwork created by enslaved craftsmen in New Orleans," the museum says.
Inside, visitors will ride an elevator 40 feet underground for a tour of the African American experience by way of artifacts ranging from the iron ballasts of a 1790s slave ship to an airplane used to train Tuskegee airmen and the 1990s Parliament Funkadelic Mothership, a 1,200-pound metal stage prop used at musician George Clinton's concerts.
[Take Smithsonian magazine's interactive tour or see The Washington Post's exclusive peek inside the museum.]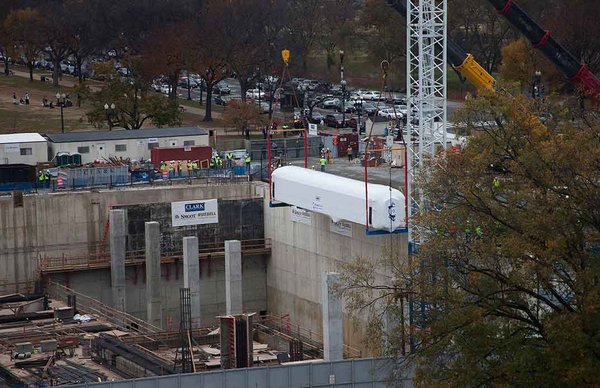 Photo: A Jim Crow-era train car is lowered into the National Museum of African American History and Culture construction zone November 17, 2013. Michael R. Barnes/Smithsonian Institution
To accommodate five floors below grade, the foundation sinks so deep into the capital's once-swampy National Mall that builders pumped 85 gallons of water per minute during construction. A second challenge was the installation of two vivid representations from America's nine decades of racial segregation: a 77-ton, 80-foot-long railway car divided into separate seating for white and "colored" passengers, and a 21-foot cast-concrete guard tower from the Angola prison in Louisiana, where the mostly black inmates were subject to a penal labor practice that let private individuals lease prisoners. So big that they couldn't be installed once the museum was completed, the exhibits arrived in a seven-truck convoy in 2013, then lowered into place in what the museum called "one of the most complex artifact-delivery operations in Smithsonian history," lasting five hours. Construction then proceeded around them. – Mark Matthews
This article originally appeared in the September 2016 issue of the American Society of Engineering Education's Prism magazine.
Filed under: K-12 Outreach Programs, Special Features
Tags: Civil Engineering, construction, History, National Mall, National Museum of African American History and Culture, National Park Service, Smithsonian