Posted on
May 29th, 2013
by ASEE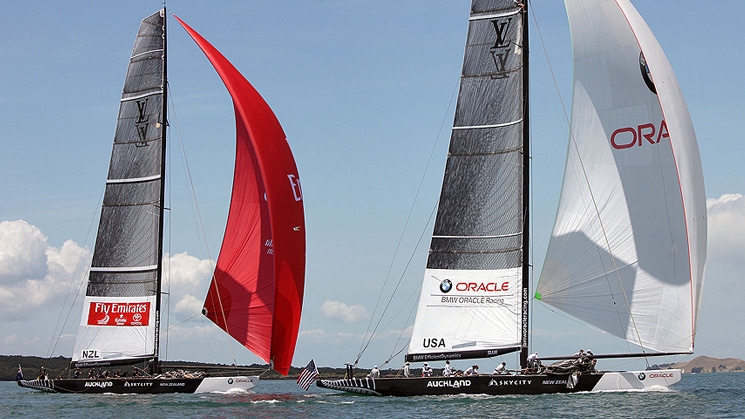 The 34th America's Cup yacht race culminates in San Francisco from July through September, 2013, and nautical innovations – including 72-foot-long catamarans that can travel at twice windspeed – have been very much on display. Teams invest tens of millions of dollars to give the "world's fastest boats" a winning edge. And the result is an engineering spectacle.
The United States won the 33rd America's Cup in 2010 with a design that got a boost from aeronautical engineering. The wing sail of BMW Oracle Racing's BOR 90 is essentially an oversized airplane wing. At 190 feet tall, it remains the largest sail ever used on a boat. The composite material, primarily carbon fibers and Kevlar, is wrapped in a shrink film to keep it slippery. The main element of the sail rotates around the mast, while the leading edge is lined with eight adjustable hinged flaps. Designers of the BOR 90 told Fast Company magazine that the sail offers two to three times more power than conventional soft sails made of canvas.
And next time? All that BMW Oracle allowed back in 2010 was that the winning team and its challenger, Italian syndicate Mascalzone Latino, are making "progress on a new, exciting and physically demanding class of America's Cup yacht."
The fruit of those efforts, which will vie for the America's Cup,  is the AC72, a sleek catamaran with a 13-story-tall wing sail that can fly along at speeds approaching 50 mph. Each hull has a retractable hydrofoil that lifts the boat off the water, with computerized systems adjusting their depth. The New York Times explains the engineering in an action-packed series of graphics.
A smaller version, the AC45 designed by defending champions ORACLE TEAM USA, raced in preliminary heats in 2011 and 2012. It is featured in an exhibit called "Built for Speed" at the California Academy of Sciences.
Watch USA Team Oracle's AC72 in action:
[youtube]http://www.youtube.com/watch?v=Nvbc81UhE9I&list=PL4jyS1DaVhX9pI_SWvJ8nOV4m31-ckOW5[/youtube]
The physical demands of harnessing such wind power on the AC72's 11-man crew are on par with the most challenging athletic endeavor. Experience and design can never eliminate risk – or danger.
Last October, the U.S. boat flipped over in San Francisco Bay. Then, on May 9, tragedy struck when the Swedish team's boat capsized during a practice run, drowning Olympic gold medal sailor Andrew "Bart" Simpson whom teammates said had been trapped under the deck. An independent panel was assembled to review all aspects of training and safety for the AC72 yachts, and sailing of AC72s and AC45s was suspended for roughly a week. Among the panel's 37 safety recommendations: Lowering the wind limit to 20 knots in the July races, increasing the maximum load allowed by 100 kg., and having rescue divers ready to assist immediately.
Filed under: Special Features
Tags: Aerospace Engineering, America's Cup, boat design, catamaran, Marine engineering, sailboat, yacht