Posted on
August 10th, 2012
by Jaimie Schock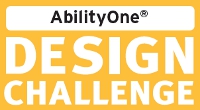 Deadline: Monday, Jan. 14, 2013, 12:00 p.m.
The AbilityOne® Design Challenge, in partnership with the ASEE Design in Engineering Education Division, encourages students to develop assistive technologies that empower people with disabilities to overcome barriers to employment. The design challenge is a service learning opportunity for students in grades 9-12 in the High School Program or any college student or student team at the graduate or undergraduate level in the University Program that also enhances science, engineering, and technology skills.
High School teams work through the fall to research, design, and submit a presentation featuring their device. The top five teams win a trip to Washington, D.C., to present their devices and compete for cash prizes up to $5,000.
University students work throughout the academic year and are eligible to win cash prizes up to $10,000.
Filed under: Grades 9-12, K-12 Outreach Programs
Tags: assistive technology, Competition, Competitions for Students, Contest, Contests, Design, Engineering Design