Posted on
December 5th, 2010
by ASEE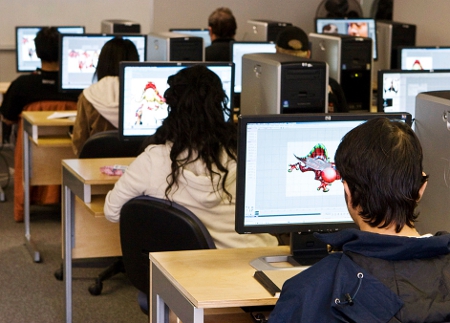 Seventh-grade technology education students in Hampton, Va., are learning to create animation videos using a webcam, software and clay, the Newport News Daily Press reports.
In one, a pink man stands at the top of a green cliff when suddenly, the cliff begins to collapse. It slowly caves in on the man, who ends up buried in a pile of rubble at the bottom.
Sims Middle School teacher Terry Beddow has the class research, design and create a five- to 10-minute episode for a hypothetical TV show on the "Animation Creation Station." That includes creating a storyboard, script, animated characters and digital imagery.
Beddow said he's seen a lot of violence and fighting themes in the story lines and had to put a limit on how graphic the stories could get. There are also cutesie story lines, such as a family getting ready to go out in the snow by donning scarves and hats.
"I'm not dictating how creative they are," Beddow said. "They're only limited by their imagination."
Filed under: K-12 Education News
Tags: Animation, Art, Art and Engineering, Computer Science, Design, Engineering Design, Technology, Technology Education, Technology for Learning